Go green and start driving an electric car today. If you're interested in purchasing or leasing a Nissan Leaf in California you have great incentives available, you could end up saving thousands of dollars!
Federal tax credit of $7,500

for a 2018 and 2019 Nissan Leaf.

The California Clean Vehicle Rebate Project grants California residents 

from $2,500 to $4,500 

for the purchase of a 2018 or 2019 Nissan Leaf.

High-Occupancy Vehicle (HOV) Lane Access.

Owning a Nissan Leaf allows

 a solo driver a

 carpool sticker to use the HOV lanes and 

avoid traffic!

Federal EV Tax Credit
Currently the Federal Tax Credit for a 2018 and 2019 Nissan Leaf is $7,500
See program info
The federal government provides a substantial tax credit for new battery electric and plug-in hybrid EVs, ranging from $2,500 - $7,500, depending on the capacity of the EV's battery. All battery electric vehicles are eligible for the full $7,500, whereas some plug-in hybrids with smaller batteries receive a reduced amount. Check out the breakdown of tax credit amounts.
Note that the federal EV tax credit amount is affected by your tax liability. For example, if you purchase an EV eligible for $7,500, but you owe only $4,000 in taxes, you will receive a $4,000 credit.
If you lease your EV, the tax credit goes to the manufacturer. However, dealerships often factor the tax credit into the cost of the lease, lowering your down payment or monthly payments. Ask the sales rep how the tax credit is being applied.
Once a manufacturer's EV sales exceed 200,000, the available tax credit enters a phase out period that begins with full rebate amounts in that quarter and the following quarter. After this grace period, the tax credit is cut in half for the next two quarters. Then the amount is cut in half again for a final two quarters before it is phased out completely. Following is an example of a battery electric vehicle that reached the 200,000 sales mark in July 2018, and the tax credit phase out has begun. 

California Clean Vehicle Rebate Project (CVRP)
Grants California residents from $2,500 to $4,500 for the purchase of a Nissan Leaf.
Provides savings directly to purchasers and lessees of fuel cell, battery electric and plug-in hybrid electric vehicles. View eligible models.
Simply meet the eligibility requirements to receive cash back on your new electric vehicle based on the type selected. Applicants with low-to-moderate household incomes (less than or equal to 300 percent of the federal poverty level) are eligible for increased rebate amounts.
See program info
Apply for a rebate
Use the savings calculator to determine incentive programs available for the purchase or lease of your clean vehicle.
Air District and Utility EV Rebates
EVs are eligible for incentives beyond CVRP and federal tax credit
Your local air district or electrical utility may provide further resources to maximize your savings when you switch to an EV. These include rebates for purchases or leases and incentives for installing Level 2 home charging stations.
In addition, many utilities offer special reduced time-of-use (TOU) rates for home EV charging when electrical grid demand is low. Learn more by contacting your local utility.
Following is a list of California air districts and utilities that offer rebates for new and used EVs and home charging stations. The rebate amounts listed below are the maximum an applicant could receive. Visit the program website to check eligibility.
View list of additional rebates
High-Occupancy Vehicle (HOV) Lane Sticker
Tired of sitting in traffic on your commute? Reduce your travel time with HOV access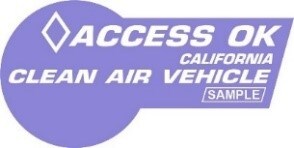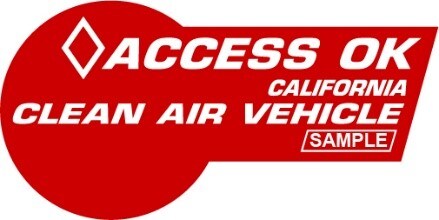 Move into carpool lanes by driving electric!
A coveted benefit of electric vehicle (EV) driving is single-driver access to most HOV lanes throughout California.
The Clean Air Vehicle (CAV) program is for drivers of qualifying vehicles that meet specified emissions standards set by the Department of Motor Vehicles (DMV) in partnership with the California Air Resources Board (CARB). Currently, the fee for a CAV decal is $22.